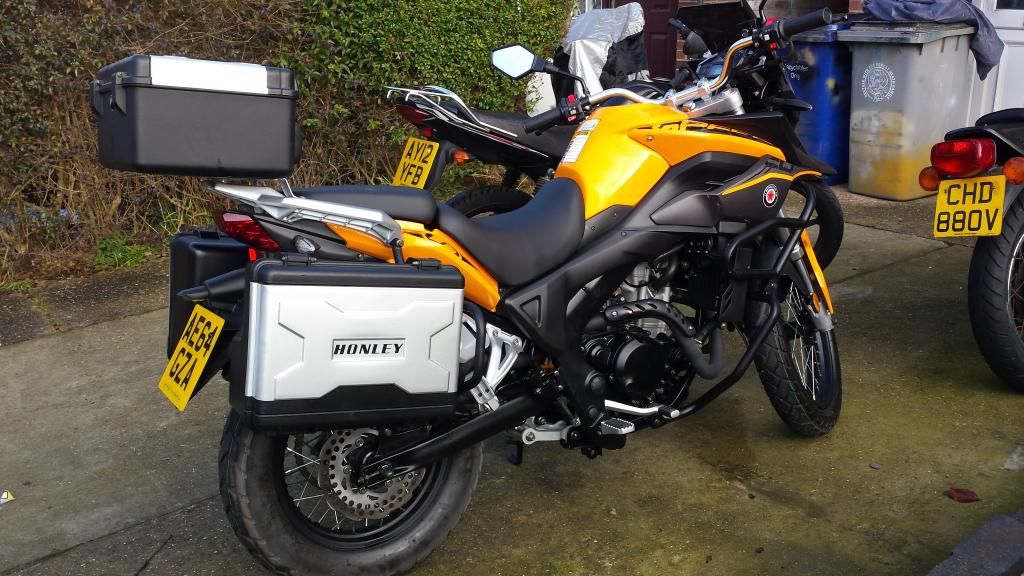 Well here it is, my new bike, the Honley RX3 Adventure.
What can I tell you so far, well it feels light and agile and very comfortable, it took me a little bit of time to get used to a smaller CC engine and the single cylinder engine noise but I really enjoyed the ride home on her which was about an hour and thirty minutes, (I took a few detours)but it was really good fun. I got it from F2 motorcycles (David Angel) and he was really helpful, he even does his own print out of all the running in procedures and servicing as the booklet that comes with it hasn't really translated that well :laugh:, I haven't taken her off road yet as that is a new thing for me to learn, the only down thing on the entire bike for me is that the panniers and top box are not removable unless you empty them first and undo the 4 nuts and bolts but I'm working on that, the colour in the photo isn't right for some reason it is more orange than it looks.
Anyway I will keep you posted on her to let you know how she stands up to wear and tear but David did cover her in AC50, I will also try to get some more photo's of our travells.
Finally, I think that I am really going to enjoy this bike (must think of a Name for her).
Peter