Garmin Montana 600.
As an aside and not to tell anyone how to suck eggs....the nine icons I have on my home GPS screen get me,with a couple of taps,all that I need when I'm mobile.
I carried out a bit of juggling in respect of menu order items etc. to make it work well for me.
Co-ordinates stay live on screen...easy to telephone same to eg a lost rider as where to meet,say,to the front door of an hotel/or give to breakdown recovery etc.
Majority is self explanatory...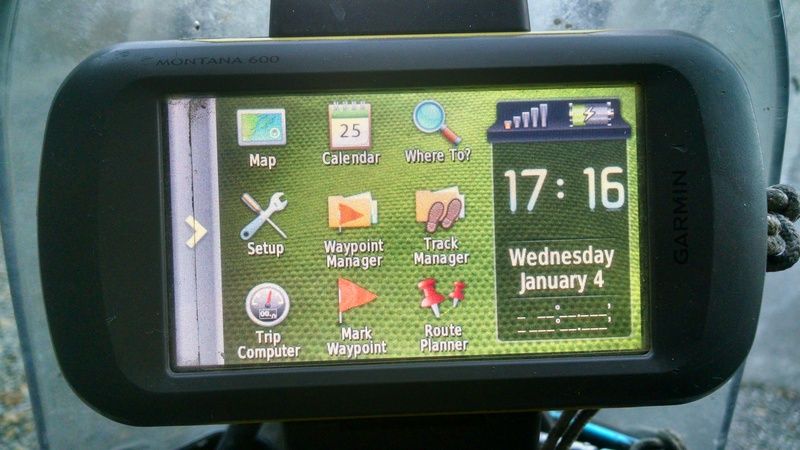 TOP LHS = current live Map screen (Nuvi dashboard installed will have ETA and speed listed. This also has diagrams of what turns are coming up,especially useful to see at multi exit roundabouts)
MIDDLE TOP = Calendar
TOP RHS = Where to....menu order changed to find what is most searched for during a ride.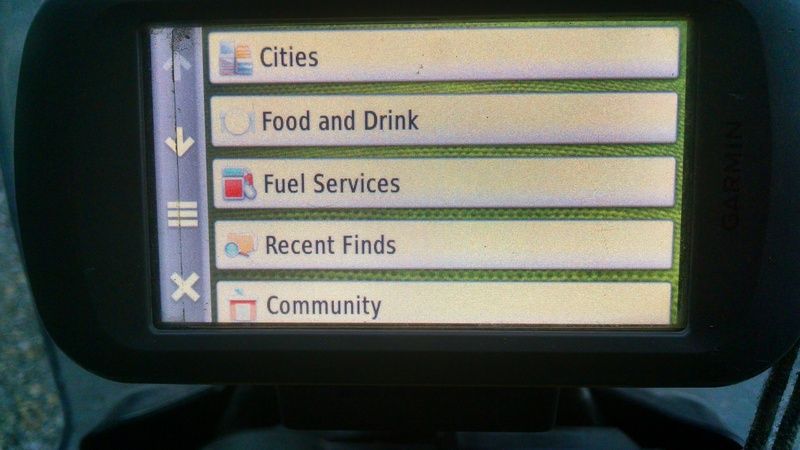 At a tap..where to find;
What town/village
Where to find food whilst riding
Where to find fuel
Recent finds.....what ever I've previously looked for is on this list. For example if you have started a mornings ride to go to Villefranche...whilst you've tapped for food and found same,thus changing the destination....you can then consult this list to find Villefranche on it....it means you don't have to re enter the final destination letter by letter.
Community..in the Montana this is where you'll find an ATM.
Next screen down gets me Lodging to include camping
Way points after that...anything I have marked through the day. eg Left a wallet at a cafe...tap here to return. More later as to why this would even be marked to be begin with.
Auto services for mechanics etc...I only use these two screens when riding and as you can see the first screen is pretty much what you'd be needing on a daily basis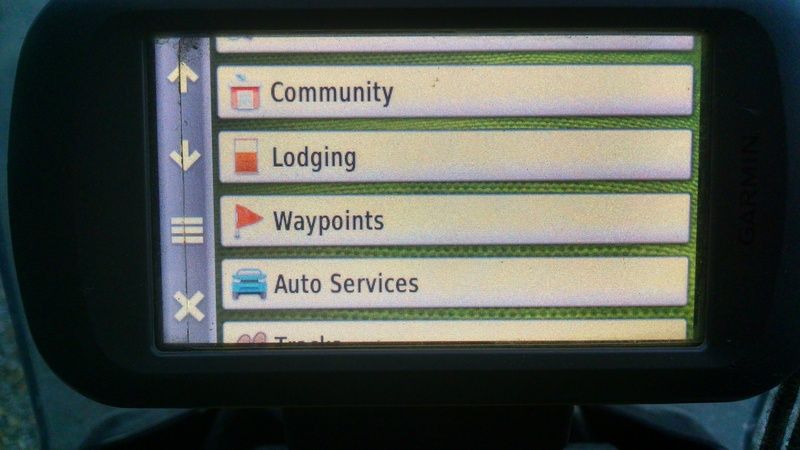 MIDDLE LEFT..set up... I've moved menu items to the top so as I can select maps to chop and change from and too if need be and what to avoid whilst riding i.e. autoroutes, amongst other minor things.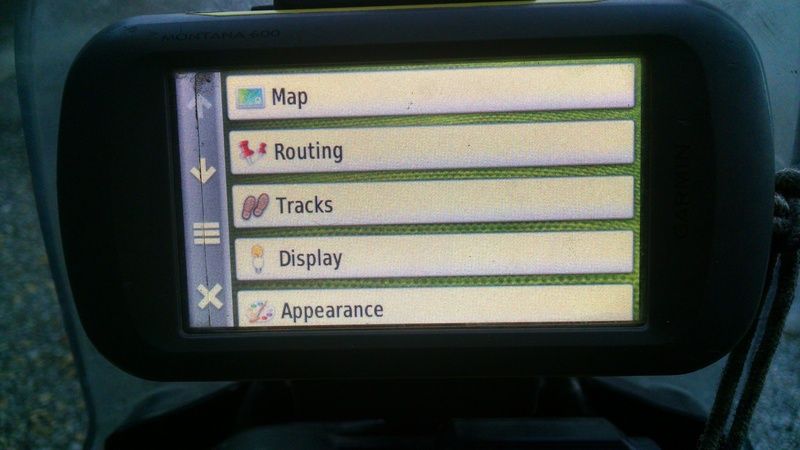 MIDDLE CENTRE....Way point manager...here I can find any way point I've listed on my travels...I can search by a title or for faster search by symbols e.g. a Tent icon.
CENTRE RHS....I can give titles to routes that have been logged in as I've ridden. Handy for consulting. Here will also be any route I've downloaded or had someone bluetooth to me.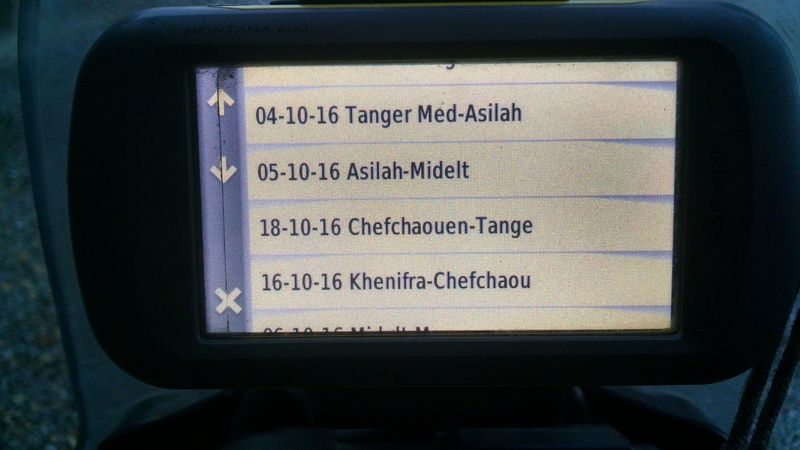 BOTTOM LHS....one of the most used icons...Took a while to organise but with one tap I can see what's what at a glance.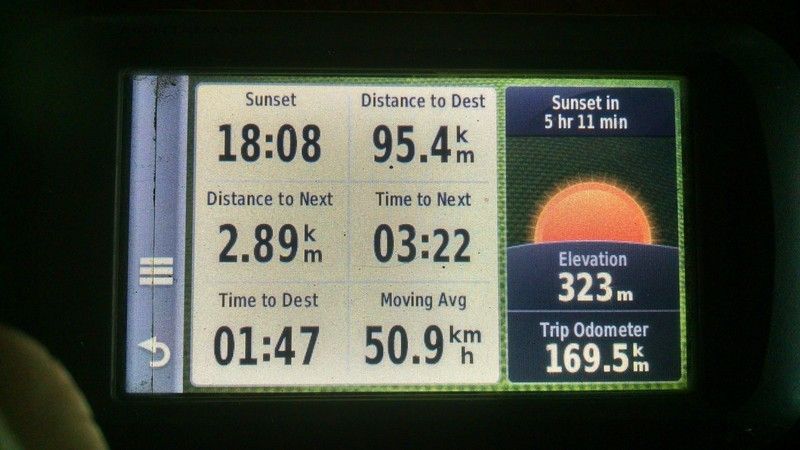 Clicking the 'Speed' icon will take you directly from the moving map screen to the above info screen...clicking on the circular arrow icon on the bottom LHS will take you back to the moving map screen.
Handy to know what time sunset is...and to the top RHS it will tell me how long is left until it does without having to ride and use mental maths

As stated before ETA is also on the live map as I have nuvi dashboard activated (along with speed)....bigger ETA numbers if at night on this screen assist.
As can be seen it's nice to know how many kms to a destination and with moving average also listed,if one is thinking about distances the for the next day over a meal...by using todays moving average it gives a good rough estimate.
Distance to next and time to next.....I use this more often than one would ever think.....here's why....with previous experience,in some instances,I found when looking at the map with close junctions or autoroute exit slips...the moto is going too fast relative to the direction arrow speed,to see what turn to take.
For example when riding around Madrid,at a flowing mad Spanish driver speed,you can find a slip off turn and then another one as close as 20-40M after. Imagine I have to take the second of the two. I can tap to the Trip Computer from the Map upon close arrival as the direction arrow on the map covers the two turn offs as I approach...I can zoom but I move too fast for the GPS arrow to keep up ....the Distance to Next is getting goofy as GPS accuracy could be out 6-10m as well as with my speed...so which one will it be?
On approach,if you look at Time to Next you can see that the first turn is arriving but you've another ten seconds or whatever it may be to ride so it can't be that. The seconds countdown is certain and already computed and working so you can trust this with out watching a jumping direction arrow. Take the turn and tap back to Map.
Assists to take the hesitation out of riding which is ultimately safer.
Handy also even if used for turns that are further apart.
BOTTOM MIDDLE...mark my way points as I see fit. I use these not only to log e.g. viewpoints but other stuff,as mentioned earlier such as a good café. I can edit as I see fit.
When you tap to log a way point there is a Note section. I use this to log my fuel when I arrive at a fuel station. Other details along with the prices of any hotel and whether they were good or bad etc. can be noted by a simple way point tap.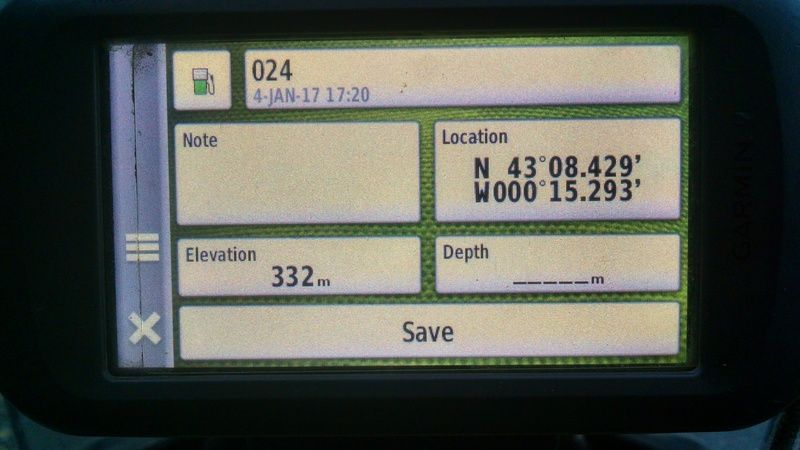 Any edited details end up in the note screen. I can choose an icon i.e. a Fuel pump.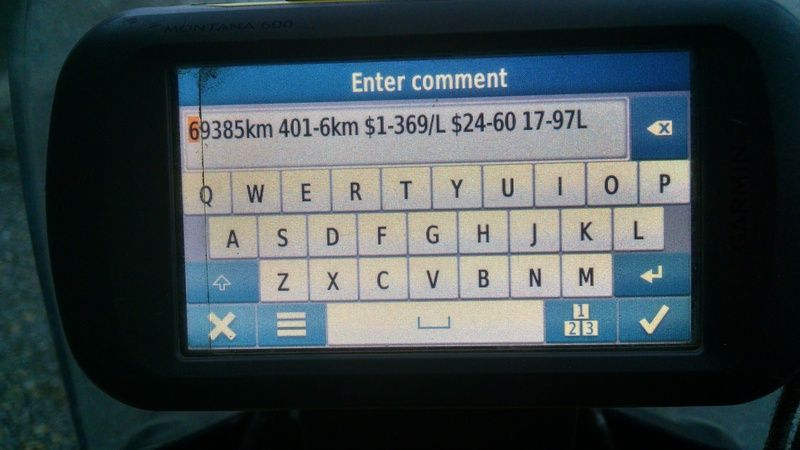 BOTTOM RHS is to create a route. I can sit over dinner and make a route up for the next day if I wish....no need for Basecamp....Calais to Bordeaux to Toulouse for example. If I wish to add POI's in along the way I can. When tapped on it will give you the route marked on screen along with the kms to ride....moving average as mentioned before then gives an idea of what's what.
I,or anyone else,can create a route tonight then bluetooth it to others to ride tomorrow..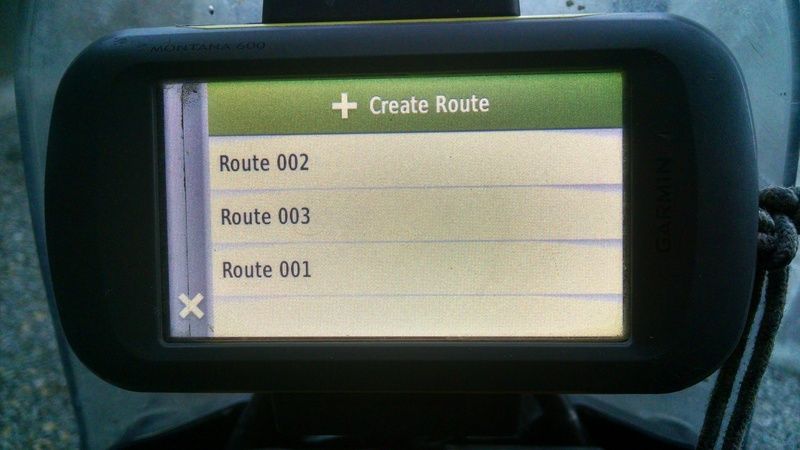 Returning to mention the Calendar icon(mine has zapped recently) I have my GPS set to auto archive daily at midnight. This means when you open the calendar and click on any certain date..all that you logged will be on a list,way points and route traveled.
Here you'll get daily costs that you've logged in the form of a way point throughout the day if you want to be that detailed e.g. fuel log/price and opinion of a restaurant.
With these costs I can know roughly what money to put aside for my next ride out of similar kms.
These way points with title will show on the map the next time you find yourself along the same route. I have found myself further field and not remembering riding on a road before. I'll see a café way point coming up on my map and can click and see if I should stop there or not,as I'll have the price and good or bad on the Note section. I can ride on past if it has been dire.
.